School Kitchen
Watlington School Kitchen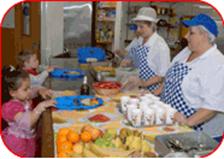 Watlington School is very lucky to have its own kitchen, where meals are cooked fresh daily.
We have a four week menu. You will be given a copy to take home or click on www.norsecatering.co.uk.
If not you will always find one by the kitchen door.
You are always welcome, so why not come and try our lunch, and if you like it, why not tell your friends about it?